Weight-Loss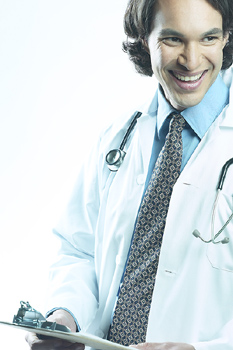 Even before the baby, 32-year-old Robin Williams was heavy. "Not obese," she says, "but definitely overweight." When she gained 80 pounds during a pregnancy in 1991, Williams, a railroad safety manager in Bossier City, La., figured she could slim down later. After the baby was born, she tried numerous fad diets and exercised with coworkers on her lunch break. But because the diets -- such as one "grapefruit diet" -- were so difficult to follow for long (not to mention unhealthy), she always reverted to her old habits. "I would lose 10 pounds in three months, but then gain it back in one or two weeks," she says. In 1997, she became pregnant again and gained 12 more pounds, followed by an additional 20 postpartum. Reaching 245 pounds at 5 feet 2 inches by age 30, Williams had become clinically obese and was at high risk for complications such as heart disease and diabetes. Now she was dieting not just to look better, but to ease increasingly high blood pressure and chronic leg and back pain. Nothing worked.
"Then I ran into a friend who'd had weight-loss surgery," Williams says. "I was shocked. She had lost 105 pounds." Williams immediately explored surgery for herself. News reports about singer Carnie Wilson's successful weight-loss surgery fueled her interest. Still, Williams was cautious. "The first doctor I saw gave me a canned speech. I didn't get a chance to ask questions," she says. "I felt like I was being herded into surgery." After consulting a second doctor, who answered all her questions, she decided to undergo gastric bypass, a common weight-loss, or bariatric, surgical procedure. The operation went smoothly, and Williams lost 115 pounds, most of it within a year. "I never dreamed I'd now be in a size 6," she says.
Williams' experience - the frustration, the appeal of a quick and permanent solution - is, in many ways, typical. So is her course of action: Bariatric surgeons now perform about 45,000 operations annually, 85 percent of them on women. The number is up dramatically from several years ago, says Kenneth Jones Jr., M.D., president of the American Society for Bariatric Surgery (ASBS), an educational professional association whose membership has doubled in four years. But it's not just prevalent obesity and high-profile cheer-leading that are driving these numbers. Also, new techniques are allowing operations to be done as laparoscopic "keyhole" procedures, which don't require the large abdominal incision necessary in standard operations. For skilled surgeons who are flocking to this market, weight-loss procedures are relatively easy to learn and extremely lucrative. Operations can run from $14,000 to around $50,000 and are often (but not always) covered by insurance.
Alarmed by this double-edged enthusiasm from patients and doctors, some observers fear that women might be steered into inappropriate procedures or suffer serious complications. "There's concern that a lot of surgeons are getting into this who don't have enough experience in bariatric care, especially when it comes to managing complications," says Harvey Sugerman, M.D., professor of surgery at Virginia Commonwealth University in Richmond.
Meals: one ounce at a time
It's easy to see why side effects are a major concern with weight-loss surgery: They're part of the package even when things go well. Every form of bariatric surgery fundamentally alters the way the gastrointestinal system works. Though the operations can be reversed (often with difficulty), the gut will never be the same. In the most common operation, vertical banded gastroplasty, surgeons use a special band and staples to crimp the upper stomach into a small pouch and narrow the outlet to the small intestine. This lets only an ounce or two of food enter the stomach at a time, significantly cutting calorie intake. Increasingly, doctors combine gastroplasty with a bypass in which stomach contents are detoured around the leading sections of the small intestine, where much of the breakdown and absorption of food takes place. Without full absorption, the body can't add pounds easily.
People who have had a gastric bypass can suffer a range of nutritional deficiencies (especially of calcium, iron and vitamin B2), leading to conditions such as osteoporosis and anemia. While these effects can be tamed at a doctor's behest with nutritional supplements, other effects must simply be tolerated. One of the most common is "dumping syndrome," in which the stomach contents that move too swiftly through the small intestine cause nausea, sweating, weakness and diarrhea. "If I eat just one bite too much, I get this nauseated, clammy, icky feeling," Williams says. Gastroplasty alone can cause vomiting when even tiny amounts of food stretch the stapled stomach.
The body adapts to such effects and patients become slightly more tolerant of food over time. In fact, about 10 percent of patients can eventually "outeat" the procedure with high-calorie food, losing less than half their excess weight, which is how surgeons define failure, according to Jones. (Because it's possible to boost caloric intake, especially after a year or two, women who've had surgery can have healthy pregnancies.) But whether surgery ultimately produces successful results, "these procedures permanently change the way you eat," says Edward Livingston, M.D., director of the bariatric-surgery program at the University of California, Los Angeles, School of Medicine.
In addition to the expected side effects, 20-40 percent of bariatric-surgery patients suffer "annoying complications" like wound infection and abdominal hernia, Livingston says -- and 6 percent develop complications that become life-threatening. According to the National Institutes of Health, 10-20 percent of patients need follow-up surgery, for which complication rates are even higher. As with all major operations, some patients die: one in 200, according to Jones -- a rate higher than those of many other common surgeries, because obese patients tend to be chronically ill and often have difficulty recovering due to problems such as poor blood flow and impaired respiration.
On the positive side, weight-loss surgery reduces obesity and the ailments -- the comorbidities -- that go along with it. Patients immediately lose weight. Though there's a plateau about 18 months after surgery, a gastric bypass usually trims about two-thirds of excess weight in two years. (Results for gastroplasty alone aren't quite as good.) If the operations sound like shortcuts for the no-willpower crowd, "they're not," Jones says emphatically. "If you're 100 pounds overweight, the chances of indefinitely losing and keeping off enough weight to get rid of comorbidities are less than 2 percent. These patients are stuck, and bariatric surgery can absolutely be lifesaving," It's also very efficient, proponents say. The range of severe problems obese people typically suffer includes heart disease, diabetes, headaches, leg ulcers, menstrual problems, sleep apnea, joint pain and incontinence. "It's incredible," Sugerman says. One operation might wipe out six diseases."
Overeager doctors?
Few experts have concerns about bariatric surgeries performed on people who are clearly at risk for or suffering from serious health problems. But as the operations gain popularity among defeated dieters who are merely overweight (and among overeager doctors), the standards used to green-light operations have come under scrutiny. ASBS trainers can show any interested surgeon "the whole program from soup to nuts" in one week, says Jones. "That doesn't mean ASBS says they're qualified," he adds. "Qualification standards are set by local hospitals." Technically, any surgeon who knows the procedure can operate on anyone who consents to it, whether she's morbidly obese or not.
A number of factors work against flagrant abuses, however. Primary among them are guidelines in a 1991 consensus statement from the National Institutes of Health. The NIH guidelines are based almost entirely on body mass index (BMI), a measure that takes into account both weight and height. Those with a BMI above 40 -- Robin Williams' BMI, for example, was almost 45 -- are considered appropriate candidates as long as they have made at least one serious attempt to lose weight without surgery and are mentally stable enough to comply with dietary restrictions. A BMI as low as 35 (for which a 5-foot-6-inch woman would need to weigh 216 pounds) also fits the guidelines if the patient is at high risk of a serious condition such as a heart attack, as determined by factors such as significantly elevated cholesterol and blood pressure or family history of heart disease; diabetes; asthma; or arthritis of the hips and knees.